<font color='#0000FF'>
<span style='font-size:13pt;line-height:100%'>nano - The GNU Nano Text Editor, v 1.1.12</span>
Description
Nano is the editor formerly known as TIP (TIP Isn't Pico).
Some advantages of using Nano instead of Pico are a goto-line # command, interactive search-and-replace and autoindent support.
Nano is also 1/2-1/8 the size of the Pico binary, making it ideal for rescue disks. It is also a stand-alone distribution, not a part of a larger package.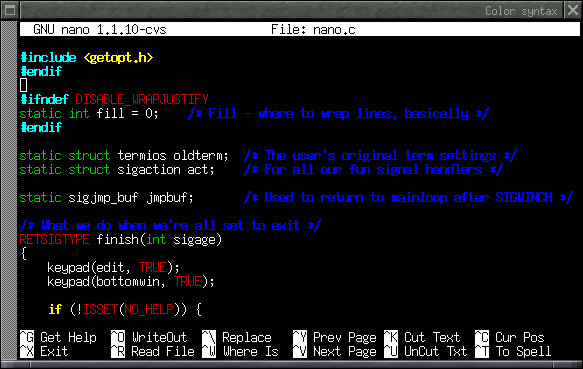 GNU nano features:
Autoconf support.
Truly free license (GNU GPL).
Goto-line# command w/o flag.
Case sensitive search function.
Interactive search and replace.
2/3 - 1/8 size of Pico binary.
Slang and ncurses support.
Autoindent abillity.
Displayed tab width option.
Regular expression search and replace.
Toggles for cmdline flags via Meta keys.
Tab completion when reading/writing files.
Licence: gpl-2
Webpage: <a href="http://www.nano-editor.org/" target="_blank">http://www.nano-editor.org/</a>
To install:
pkg -i

http

://freesco.tecknojunky.com/030/nano-1.1.12_tj
The install script will ask you if you wish to make nano be called when typing edit.
For it's small size, I think nano is a good compromise between edit and vi (size/features).
Enjoy.</font>